Key17 Home
We made a plan how players will progress through the campaign mode, and added a new type of level: Armageddon!
Players will progress through ascending Tiers of levels. Every next Tier will come with a new type of environment, like the Forest, Ice World, Desert, and Swamp for now. The last two levels of a Tier will be a Boss Fight, followed by an Armageddon. An Armageddon has different rules: you start with a preset Support Sphere and you don't have access to your gold treasure. That means that you can only upgrade your Support Sphere with the gold you collect during the Armageddon. Also, heroes won't gain Xp.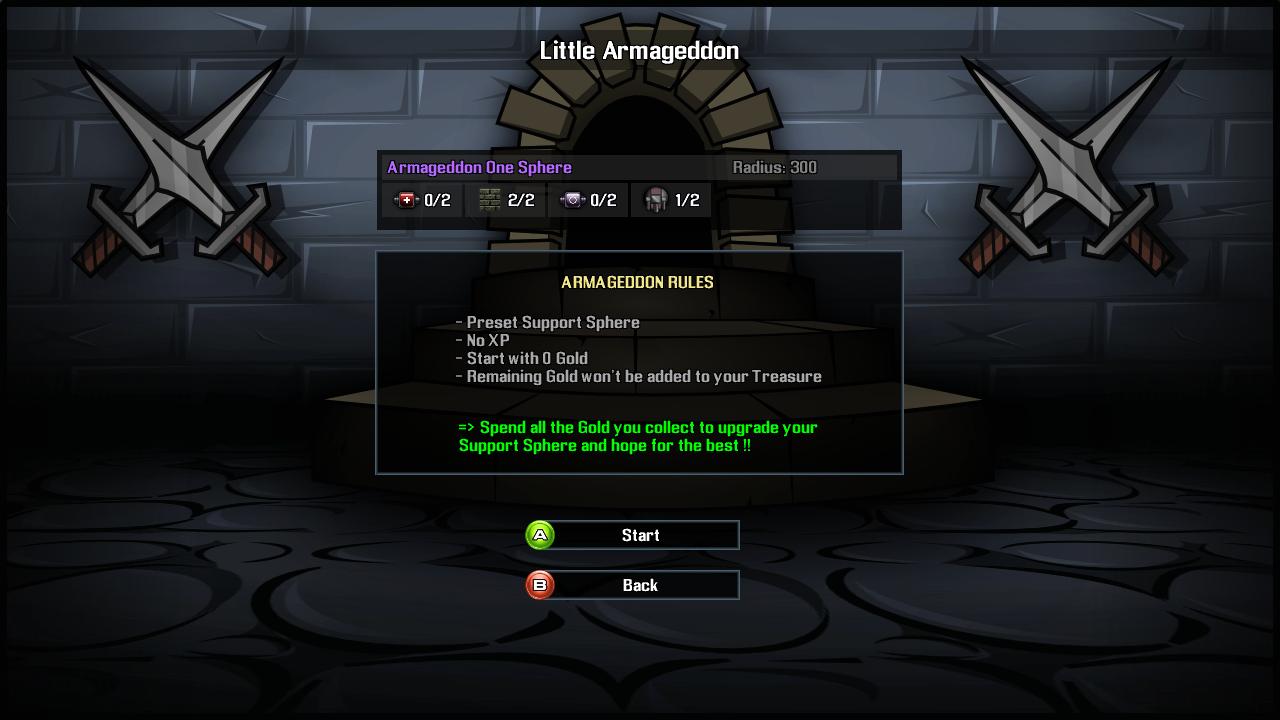 Besides adding variety to the game, Armageddons will also be used to introduce new Support Sphere modules. In this case, it's the Fortification Module maxed out to Level 2 from start on. Utilizing this bonus will be crucial for being victorious. We also plan to offer special rewards for Armageddon levels.
Once you've mastered an Armageddon, you are ready for the next Tier of levels with new types of enemies, more mayhem, more power-ups, and yet more overall Undead destruction.
We have reached another milestone and added a full fledged game mode to Undead Legions - Resurrection (ULR). The "Classic Mode" is a tribute to good old Undead Legions. It plays exactly the same as it's ancestor but we've added new types of enemies, so there's much more variation in the later waves.
In "Classic Mode", you fight through 9 increasingly difficult waves, eventually facing the evil Undead Overlord. All characters start without any upgrade (i.e. at Level 1). Sack Goblins will appear throughout the waves and provide you with indispensable character upgrades when you shoot them (which, too, gets increasingly difficult). There are no support spheres and you have two fixed skills for each character at your disposal. Power ups of all types appear randomly on the battlefield. So in contrast to the campaign mode, this game mode concentrates on the very core challenges of the game. Non-stop shooting, running into the right direction, timing your jumps, surviving !!, and desperately chasing whatever power up emerges in this chaotic undead smashing frenzy.
We moved to a new home! From now on, this is the place where you will get all the news about our games. We have seperate homes for each game, just click on your favorite one in the main menu.
If you are looking for older news and articles, you can still visit our previous home at http://key17.com/games.